Every company wants more and more data and information about their website visitors. We want to know exactly who has visited our website, for how long, where are they located, and the list goes on.
As a B2B business, you rely on other companies that need the product or service that you offer. While you may already be spending time on marketing and lead generation, there's no doubt that the best way to get qualified leads is to follow up with companies that have already visited your website. If these companies are already visiting your website, they must be interested in what you have to offer, right?
Who are these companies? What pages did they visit on your website? What's their contact info? How do I reach out?
Getting answers to these questions could be the difference between letting a prospective customer pass you by or turning that visitor into a paying customer. Luckily, you have a few options to identify the companies that visit your website.
Here's how you can identify who these companies are so you can follow up and close the sale.
How to See Who Has Visited Your Website
There are many ways to see who has visited your website, and most (if not all) of them involve tracking website users.
Using a variety of tools, you can monitor the companies that your site, which pages they visit, and how long they stay on your website. Some technologies are even able to track:
The phrases or keywords users search in search engines
How often a user visits a particular website
How quickly a user scrolls on a site
What the user clicks on
The comments a user leaves on a website or social media
And much more
This info proves super handy when you want to follow up with qualified leads either by contacting them directly or by retargeting them with display ads.
How Do Websites Track Users?
In the age of GDPR, most business owners and consumers alike are familiar with the concept of website tracking. 
Perhaps you have heard of the "cookie" – a file that websites use to obtain information about individual users. In reality, many technologies can monitor website activity and user behavior.
Why Track Website Visitors?
A few reasons why a business owner may enable website tracking include:
Monitor traffic, website statistics, and performance
Profile and identify their target market/customer
Obtain information to retarget users later
Collect user information to present them with products they may be interested in
4 Smart Ways to See Who Has Visited Your Website
There's no warmer lead than a company that has already visited your website. They may be interested in your products or services, but just need a gentle nudge to close.
With website tracking, you can ethically obtain their information, make contact, and see if they are a viable prospect. Without it, you may be getting loads of potential clients or customers pass you by.
Use these 4 website tracking methods to start getting even more B2B leads:
We enable B2B companies to identify the anonymous businesses that visit their website and personalize their experience. Your sales team can now follow up with the visitors that don't convert, while marketing can personalize your website based on firmographic information to drive up conversion rate.
Start your 14-day free trial today!
1. Use a Pre-Built Website Plugin
One of the best ways to see who has visited your website is to use a pre-built plugin or solution – preferably one that doesn't require any complicated tracking code.
Track Users and Generate Leads
All you have to do is sign up, and then check your businesses dashboard to see a list of companies who have visited your website. Even better, you'll be able to click into a lead to see even more information, like how best to get in touch with them.
You can even level up your B2B lead generation efforts by optimizing your account with custom filters, scheduled notifications, and the ability to assign leads to certain members of your sales team.
How you utilize these leads makes all the difference. Here are 5 ways to maximize your lead gen potential with Visitor Queue.
2. Add JavaScript Code to Your Website
Another more tedious method for tracking website visitors is installing the tracking code yourself. If you are pretty code-savvy, this may be relatively easy for you; if not, not so much.
The process involves adding HTML or JavaScript code from your chosen analytics provider. This way, you'll be able to track who visits your site and identify potential customers who are most likely to buy from you.
How to Add the Tracking Code to Your Website
For this method, you'll need to have access to your site's source code, have an account with a chosen analytics tool, and be comfortable editing HTML. Then, you'll need to log into your account to set up the tracking code.
Sign into your analytics tool and follow the steps to generate your Tracking Code.
Find the box that contains several lines of JavaScript. This is your tracking code snippet, and it will start with <script> and end with </script>.
Select the code and copy it.
Log into your website and paste the code into every page you want to track ( right before the </head> tag).
You should then verify the code by following the verification process outlined by your chosen tool to confirm that tracking is working.
Once set up, user data will be automatically sent to your analytics account. There, you can track traffic, visitors, user behavior, and more.
There are many analytics tools available that require JavaScript and their own tracking code to track users on your site.
One such tool is Kissmetrics, which gives you helpful info about user behavior and website engagement. The primary difference between Google Analytics (below) vs Kissmetrics is that Google Analytics primarily tracks sessions and Kissmetrics tracks people/users across sessions.
3. Identify Website Visitors Through Google Analytics
This method is no longer available due to changes made by Google Analytics. As of February 4th at about 1PM EST, the Service Provider and Network Domain dimensions are no longer available. However, you can still gain access to this data by using Visitor Queue.

Update as of February 4th
Google Analytics is by far the most popular website analytics tool out there. That's because it is highly reliable and provides a wealth of information to website owners.
You can see how much traffic you're getting, where they are coming from, which pages they are visiting, and more. And similar to method 2 above, setting it up simply involves finding and placing the appropriate tracking code.
Although this method is no longer available, using Google Analytics to monitor the demographic, geographic, and more about your overall website Visitors is beneficial. Google Analytics is also a great way to monitor the success of your marketing initiatives and see if there are any changes in your overall website traffic.
How to Add Google Analytics Tracking Code to Website
To add Google Analytics tracking code to your website:
Sign in to Google Analytics, select the Admin tab, and then go to Account > Property. Select the property you need the code for. Then click Tracking Info > Tracking Code.
Find the box that contains several lines of JavaScript. This is your tracking code snippet, and it will start with <script> and end with </script>.
Select the code and copy it.
Log into your website and paste the code into every page you want to track ( right before the </head> tag).
You should then verify the code using Google's verification tool.
Once GA tracking is enabled, you'll have a method for tracking users who visit your website. Then, you'll want to dig into the data to determine which of these users may be potential leads.
Check Out Your Service Providers Report
Within GA is something called a "Service Providers Report" which shows you the names of the ISPs (Internet Service Providers) that have visited your site. With proper filtering, you'll be able to see the name of all these companies (and then reach out to them to make the sale)!
To access this report:
Log in to Google Analytics
Click the "Audience" tab to expand the Audience Reports
Click the "Technology" tab
Select "Network"
Filter Sessions by pre-set segments*
* The resulting report will likely be a jumble of ISPs for you to decipher. To help this report make sense, it's best that you set up Segments to filter out irrelevant information:
Go to the Admin tab
In the View column, click "Segments"
Select "+ New Segment"
Under the "Advanced" section, click "Conditions"
Filter sessions by "Service Providers that Does Not Match Regex" by pasting the following expressions into the empty text field: ISP|HSE|Hosting|Verizon|Comcast|at&t|telekom|qwest|cox|broadband|pool|ip|(notset)|customer|internet|tele|block|provider|unknown|communication
Go back to your Service Providers Report and apply your segment by clicking "+Add Segment", selecting the segment you just made, and clicking "Apply".
After following these steps, you will see a more refined list of potential B2B leads.
This list may not be perfect, but it gives you a great starting point to follow up with these companies or add them to your retargeting campaigns.
More a more detailed breakdown, check out this guide on How to Use Google Analytics to Generate B2B Leads.
4. Run a Reverse IP Address Look-Up
While visitor IP addresses aren't disclosed by Google Analytics due to their privacy policy, there are other tools available (such as Opentracker) that allow you to capture visitor IPs and then run a reverse look-up to see who visited your site. You can also look through your own server logs to identify user IPs that have recently visited your website. This process can take a long time, and you might not even identify a lead as most will return as their ISP name.
DNSChecker.org and WhatisMyIP.com are two sites that allow you to enter a user's IP address and generate some information about the source, such as the source's name and location.
You can then use this information to search for additional info about the company online. If you can find the user's contact information, you can reach out to them with a "Hey! Thanks for visiting our site!", and attempt to move them along the sales cycle.
Turn Website Visits into B2B Leads with Visitor Queue

Using Visitor Queue is by far the fastest and easiest way to track website visitors, collect their information, and follow up with them as potential leads. Visitor Queue is self-sufficient, meaning once you add your tracking script, you just need to wait for your leads to come pouring in. No need to take courses to learn how to use Visitor Queue, as there is a very small learning curve.
Start turning visitors into leads with Visitor Queue today.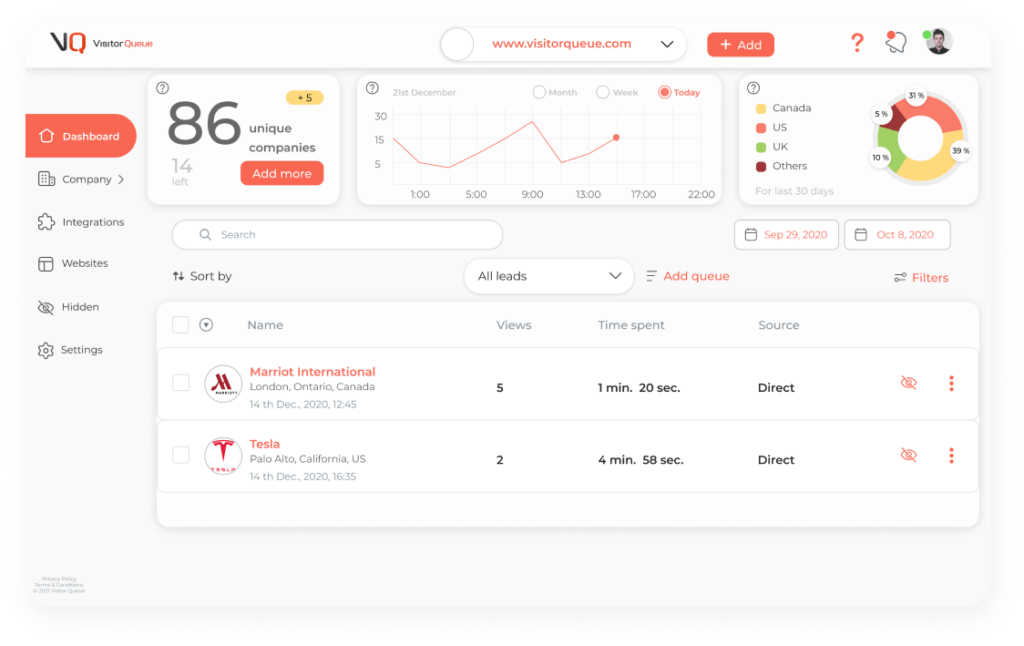 What Works the Best?
I would definitely recommend that every business uses Google Analytics to monitor their website stats. Google Analytics is a great way to start off, as it's free and relatively easy to use. You can understand so much about your website visitors and goals as well as the success of your marketing initiatives. On the other hand, Google Analytics will not identify the businesses that visit your website. So, if that's important for you, then I would also recommend a lead generation software like Visitor Queue. Using both Google Analytics and Visitor Queue will increase your company's revenue by 10-20%, which is always a win!
Wrap Up
It's clear that being able to identify what companies have visited your website before is a great way to increase sales. But which option is best for your team? Well, it really depends on your goals as a business, and what is going to be the easiest. I would definitely recommend discussing your options with your team and get their opinions. After all, your sales and marketing teams will be the ones using the tools on a regular basis.
As always, if you have any questions about lead generation or Visitor Queue, do not hesitate to reach out!