In this episode of What the Growth!? Nick talks about how you can utilize drip email campaigns to turn more prospects into paying customers.
What is an Email Drip Campaign?
A drip email campaign is an email sequence that sends emails after an event has occurred. Like, a certain amount of time or a different trigger that you set up. This is a tactic that many different industries can use and Visitor Queue has used from the very beginning, extensively, to convert more prospects into paying clients.
Create a List of Your Prospect Sources
The first thing you need to do is make a list of the different prospect sources you have that you can create automated drip email campaigns for. A few examples of prospect sources can include:
Newsletter subscriptions
Free trial sign ups
Website forms
Pick Your Email Automation Software
Once you have a good understanding of where your prospects are coming from, you can start to seek out an email automation software that allows you to create drip emails. At Visitor Queue, we use Keap.com which is our CRM and email automation platform all in one. If you have a CRM currently, try to use that as your email automation platform for ease and data consistency. If your CRM doesn't offer email automation, here is a list of the 9 best automation software, including email and social automation.
Planning Your Email Drip Campaign
Now that you have your email automation platform picked out, consider again your sources for prospects and the emails those different prospects would want to receive. I recommend you whiteboard this or simply mock it up on a piece of paper to help you visualize it. Make a list of the different emails you want to send them and a timeline for when they'll be sent. Below is an example of a basic email drip campaign that includes the emails you'd like to send, wait triggers, and options for users that signed up or didn't sign up.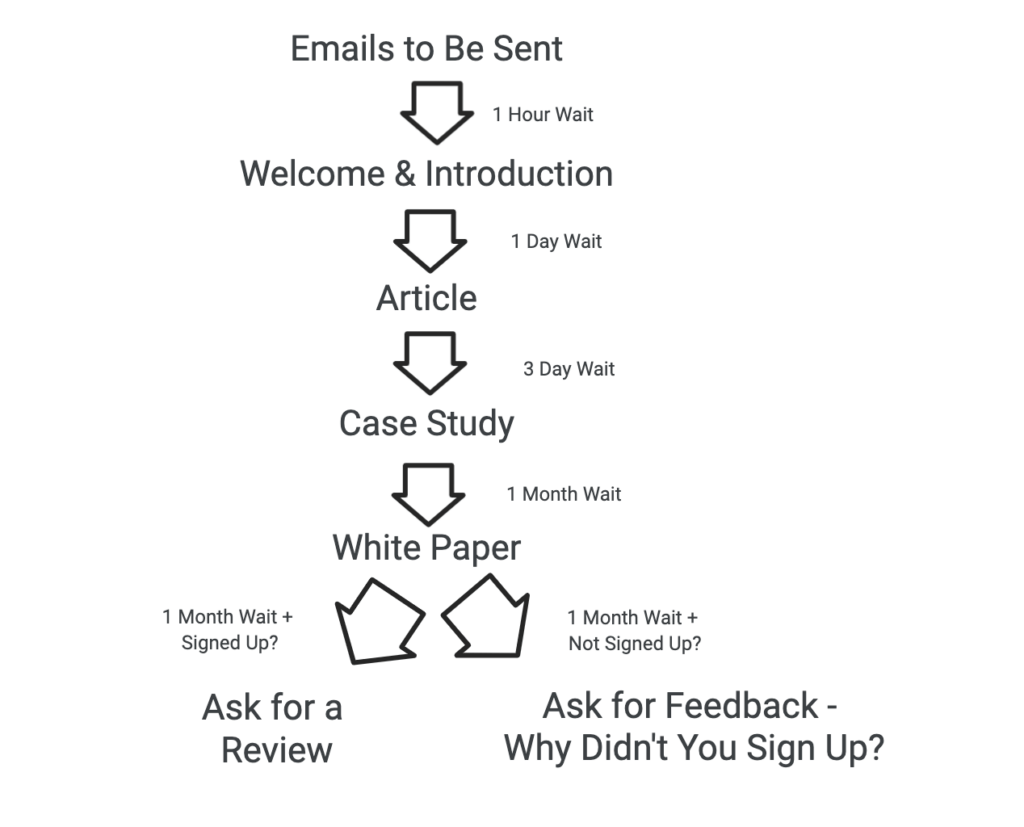 Now that you have a rough plan, go into your email automation software and start building out your drip campaigns and start sending those emails. With email drip campaigns, your prospects receive relevant content right when they need it.
We enable B2B companies to identify the anonymous businesses that visit their website and personalize their experience. Your sales team can now follow up with the visitors that don't convert, while marketing can personalize your website based on firmographic information to drive up conversion rate.
Start your 14-day free trial today!
Final Words
Don't worry if your drip campaign starts off fairly simple. No doubt that over time you will add more emails timing and triggers that will make it more complicated. That's all for this episode of What the Growth!? Ensure you subscribe to our newsletter for next month's growth tip.