Every so often Google likes to make updates to its ranking algorithm, keeping marketers on their toes. In late August of this year, they released yet another update, the "Helpful Content Algorithm". The Helpful Content Algorithm is shaking up Google's search algorithm, favoring certain types of content that they consider to be helpful. As a marketer, it's vital that we understand each and every one of Google's new algorithms to ensure our companies are succeeding. What does Google's new Helpful Content Algorithm entail?
What is the New Helpful Content Algorithm?
Google's new Helpful Content Algorithm aims to reward companies that provide their website visitors with relatable, reliable, and high-quality content. This is especially important for your highest ranking landing pages and blog articles. This means that your website would be more likely to rank on the first page of search results, which can help your company increase its website traffic. Even if your content has previously ranked well, it doesn't mean that it will continue to.
What Does This Mean for Your Company?
High-quality content continues to become a vital part of your business. With the help of strong content, you are likely to increase your website traffic. And, if you can increase your website traffic, you have the potential to increase conversion rates and expand your remarketing audiences. On the other hand, if your content is not optimized, or even not as optimized as your competitors, your pages are likely to drop in ranking. And, if your website does not rank on the first page of search results, you have less than 10% of being viewed, let alone clicked.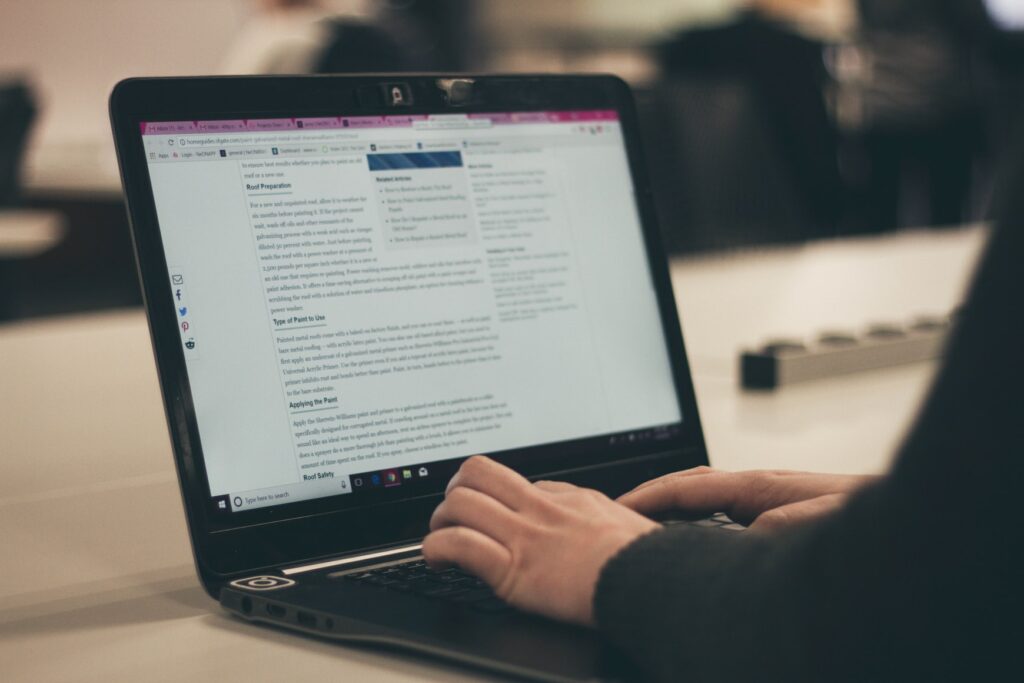 People-First Content
When researching the Helpful Content Algorithm, you'll probably come across the term "people-first content". Essentially, people-first content refers to the idea of writing content that has value to readers, instead of just trying to rank based on popular keywords or trending topics. This extends to more than just your copy. Meta descriptions, alt text, keyword best practices, and other SEO attributes also contribute to people-first content. It will be important to ensure that your content stands out from similar articles and follows the SEO best practices that we will talk about below.
SEO
SEO, or search engine optimization, can help your company rank higher on search engines. It has always been important for marketers to understand what goes into a strong understanding of SEO. With the introduction of the Helpful Content Algorithm, it's even more important to understand everything that goes into your SEO strategy. Here are a few SEO best practices that can help your company rank higher for search results.
Meta Keywords
Meta keywords help give search engines an idea of what your webpage is all about. Before creating your page or blog articles, you should use Google Keyword Planner to see which keywords are ranking the best and the most relevant to your company. Try to keep your keywords specific so you attract the right kind of traffic. But, not too specific that you don't generate enough traffic. When you are writing your pages and articles, include the keywords throughout the page, including the title, headings, and in the text. But, be careful not to use the keyword too much, as Google could flag you for "keyword stuffing".
Meta Descriptions
Meta descriptions are another important factor when you are optimizing your pages for search engines. They provide more information for Google to crawl. This will help your page appear for relevant searchers. Include your keyword in your meta description, and try to make it sound enticing for potential readers. In addition, it's important to make all of your meta descriptions different from one another. Google's new algorithm will be putting more emphasis on meta descriptions, ensuring that they provide valuable information and a sneak peak at your page or article.
Alt Text
Alt text is used for your images. It helps Google understand what the images on your website represent. A common mistake that marketers make in terms of alt text is keyword stuffing. You want to include your keywords in a few of the pictures on each page, but not every single one. Ensure you explain what the image is about in a few words. Alt text is also helpful for those with vision impairment. This is because screen reading software can read it out loud for the visitor.
Update Old Content
Every time Google releases new updates to its algorithms, some companies experience a decrease in organic traffic and others an increase. Even if you have a page that has ranked well for years, you might notice fewer page views. If you notice a decrease in your website traffic, it can be helpful to update your old content. This is because Google favors content that is relevant, new, and fresh. Google recognizes that a blog article that was published in 2017 probably won't be as relevant as an article that was written this year. So, your team should update old content to ensure it is still relevant and true today. Generally, updating your content once a year is best practice. Add in new images, revamp paragraphs, add in new supporting content and/or links, and you'll be good to go.
Blogging
Most of us know that blogging is one of the best ways to increase your website traffic. If you are not currently blogging, it's time to start. The word "blog" might sound intimidating to some. But once you get it up and running, it's fairly straightforward to maintain. Write about industry trends, complimentary software, tips and tricks, and other topics that your target audience would enjoy. If you notice a decrease in website traffic to your landing pages, blogging can help you bump it back up. Then, you can use remarketing tactics to target your previous website visitors and try to convert them into customers. If you're stuck trying to learn how to write a good blog post, check out this guide.
We enable B2B companies to identify the anonymous businesses that visit their website and personalize their experience. Your sales team can now follow up with the visitors that don't convert, while marketing can personalize your website based on firmographic information to drive up conversion rate.
Start your 14-day free trial today!
Track Your Analytics
As marketers, we know that our lives revolve around analytics and metrics. It only makes sense to discuss the metrics that you can monitor in order to optimize your website for Google's new Helpful Content Algorithm. When you are comparing trends, try to look at longer time periods than just a week or two. Every company and industry has ebbs and flows. So, it can be hard to get a good understanding of stats with just a week's worth of data. Here are a few of the key analytics that your company should be tracking.
Website Visitors
Keeping track of the number of people that visit your website can allow you to see if you are attracting the right kind of visitors. Compare your website visitors to how many pages they have viewed. This will help you see if your website visitors are qualified prospects, and find what they are looking for. If you notice that your website visitors and page views are decreasing, then it could be a good time to update your content.
Acquisition
Acquisition refers to how your website visitor got to your website. It could be organic, like we are going to discuss, or social media channels, Google Ads, or referrals. If you notice that your organic traffic is starting to decrease, your content might not be as high-quality as other similar websites. Additionally, if your organic traffic is at a stand-still, try to explore topics that will attract relevant visitors. If you're out of ideas, try out Ubersuggest. This software can analyze your competitors and industry leaders to see what content they are ranking for. You can use this to your advantage and try to write content that is even stronger.
Visitor Queue Analytics
Even if your website traffic remains unchanged, it's still hard to know if you are attracting the right visitors. Meaning visitors that will be interested in what your company has to offer. With the help of Visitor Queue, you are able to see exactly what companies are reading your blog articles, landing pages, and other website pages. Along with how they were acquired and how long they spent on each page. You can use this information to judge how relevant your content is to prospective companies. Want to reach out to these companies? We also provide employee contact information like email addresses, phone numbers, and LinkedIn profiles to help you reach out to your new leads. Start your 14-day free trial of Visitor Queue today and stop losing leads.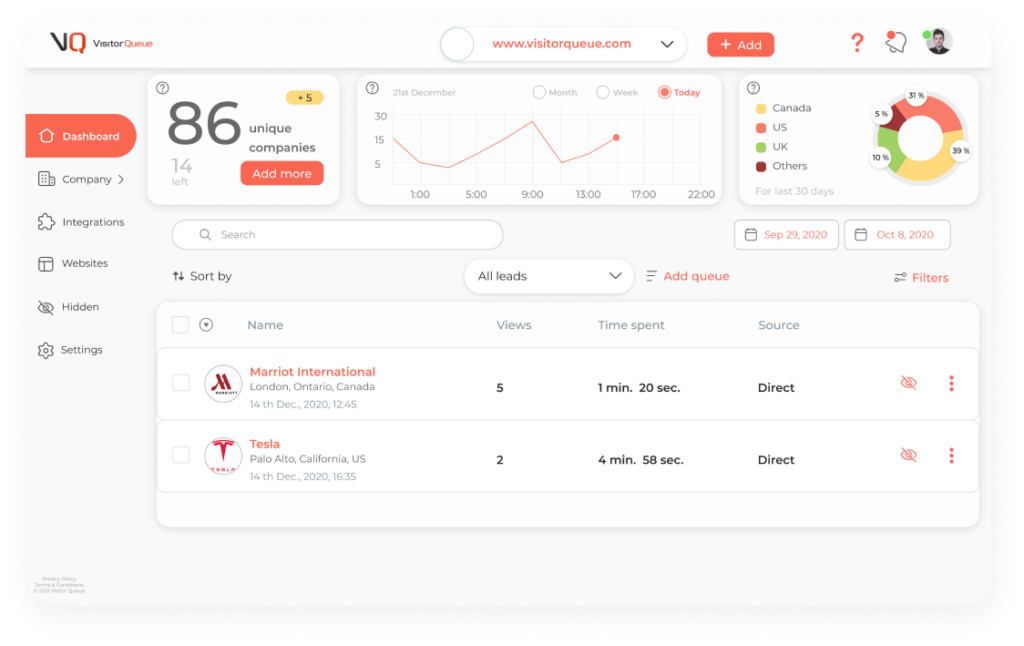 Google Search Console
If you're having a hard time using Google Analytics to identify organic trends, Google Search Console might be able to provide you with important insight into your organic traffic. Search Console provides information about your website's health, on page experience, and search results. In regards to Google's new Helpful Content Algorithm, you should be monitoring your search results page. Compare the previous period to see if any of your content has dropped in organic search results. If you notice that a few of your articles have dropped more than just a few clicks, then it might be time to give them an update.
AI Writing Software
The AI writing software industry has started to boom over the past few years. With how simple and rewarding this type of software seems, it can be hard for marketers to resist. But, the Helpful Content Algorithm is going against what a lot of AI writing software do. Like we talked about earlier, people-first content is the essence of this update. And, it can be difficult for even the best AI software to understand and write personable content. If you continue to use AI writing software, ensure you are double checking the content before hitting the publish button.
Final Words
Optimizing your website for Google's new Helpful Content Algorithm is essential for companies looking to grow their website traffic and stay relevant. While new algorithm updates can be overwhelming for marketers, this one is easier to optimize for compared to previous updates. Keep the idea of people-first content at the front of your mind when creating content, while following SEO best practices and you'll be golden. If you have any questions about how Visitor Queue can provide even more insight into your website traffic, don't hesitate to reach out.