LinkedIn is one of the best ways for businesses to identify leads and relevant website traffic. But, a lot of people are hesitant to reach out to their leads on LinkedIn. Unlike other social media sites, LinkedIn is used for professional networking and building relationships. Keep reading for tips on how to reach out to prospects on LinkedIn.
Optimize Your Personal Profile
To successfully reach out to prospects on LinkedIn, you'll need to optimize your personal and business profiles. If you are personally reaching out to your prospects, your profile must be complete and up to date. If you have missing information, gaps in your work experience, or no profile or cover image, your profile can seem illegitimate.
Images
Your profile picture is one of the most important features on your page. You want it to be professional (fun can still be professional!), and you want your face to take up about 60% of the image. Plus, you'll want to ensure your profile image is up to date, within the past few years. Having a good profile image is important because when you are reaching out to leads, that is the first thing they will see. Next, a cover image is a great place to share more about yourself or your business. The image below is a great example of how you can represent your business on your personal page.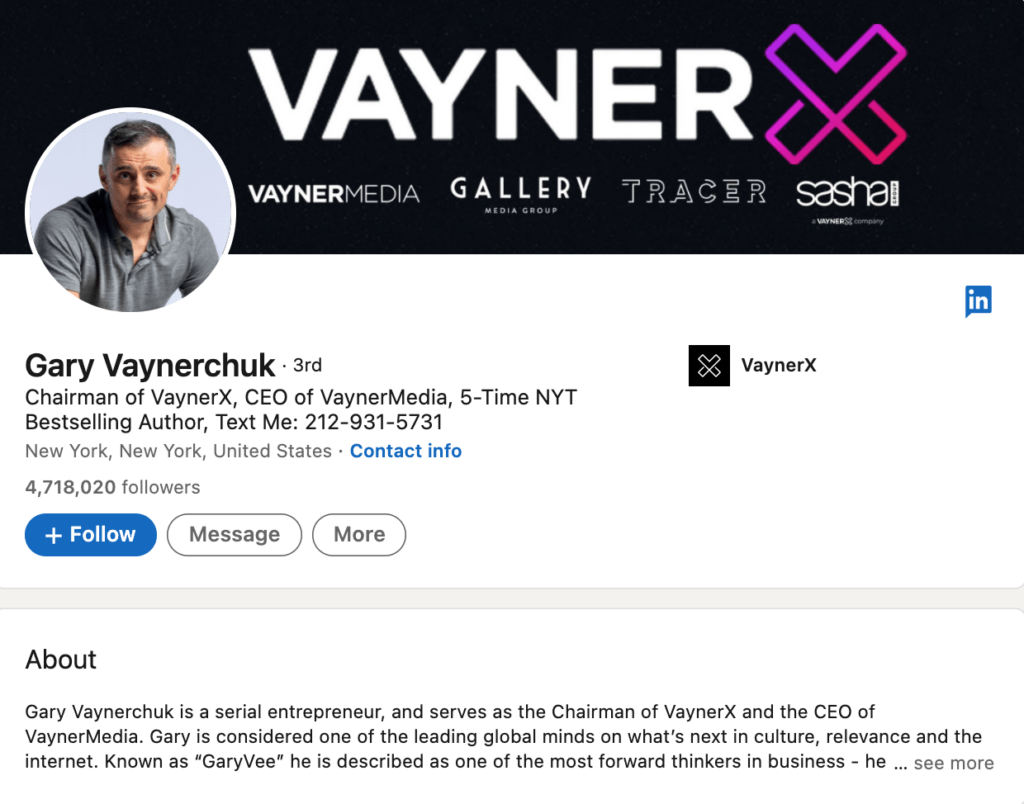 Headline, Summary, and Experience
When you are crafting the perfect profile, you want to stand out from the crowd. You should make your headline more than just your job title. You should include a quote you stand by, what inspires you, or an achievement that you have attained. Next, your summary is a chance to tell your story. Here, you can be personable and bring your profile to life. Some so many people do not take full advantage of this area. Finally, when you are adding your experience, you should also include your education, volunteer, certificates, and work experience. Don't worry too much if you have gaps in your professional experience, we're human, but it's important to stay honest.
Optimize Your Business Profile
B2B buyers tend to look at business pages on LinkedIn before they commit to a product or service. In addition, your profile, as well as your coworkers' profiles, will have your business listed under work experience, so your business page must be fully optimized as well.
Similar to your personal profile, you will want to ensure there is no missing information or images. Your logo should be the profile image, and something relevant to your company should be your cover image, like a slogan.
Stay Active
You also want to ensure that your business is staying active on its page. Sharing relevant content like blog posts, images, job opportunities, and new employees is a great way to keep your followers interested. But, if you don't always have new content to share, you can interact with others' content. If someone mentions your brand, be sure to like, comment, and potentially even share their post. It can also be beneficial to share your content with relevant groups, so they can benefit from your content. This is a great way to reach a larger audience, and target consumers who may have never heard of your company before.
Gain Followers
Sometimes even if you are active on LinkedIn, it is hard to gain followers. A super simple trick to gain company followers is to invite your connections to follow your company. If you are continuously making new connections on your personal page, then this is a great way to increase your company followers quickly. For a full guide on how to invite your connections to follow your company, check out this article.
Reach Out to Your Prospects
The first step in reaching out to prospects on LinkedIn is finding out who your prospects are. It can be helpful to identify any businesses that are in your target market, or that you know are clients of your competitors. Once you have an idea who they are, you will want to create a plan on how you will reach out to them. Every prospect will be different, and you will have different goals for them.
Connect
Connecting with your prospects is a great way to get to know them on a personal level. Since your profile is fully optimized, once you connect with them, there is a good chance they will explore your profile. The Grow My Network page is helpful if you are looking for more people to connect with. The people on this page are suggested by similar jobs, education, and businesses that you have in common.
Build Your Relationships
Once you have connected with people you'd consider prospects, it's a good idea to build a relationship with them before pitching them. If they share content, then you should engage with it. Even if you are just liking their posts, they will still get to a point where they know you support them. After a few engagements, feel free to reach out to them. It's best to keep your message casual and to the point.
We enable B2B companies to identify the anonymous businesses that visit their website and personalize their experience. Your sales team can now follow up with the visitors that don't convert, while marketing can personalize your website based on firmographic information to drive up conversion rate.
Start your 14-day free trial today!
Sponsored Message Ads
Remarketing message ads are a great way to reach out to leads that you are not connected with. If consumers are visiting your website, they are interested in what your business has to offer. Take advantage of that, and set up a remarketing campaign on LinkedIn. Messages are delivered in an uncluttered environment, so you stand out from the crowd. When you are writing your ads, be concise, personal, and relevant. It's helpful to use bullets instead of lengthy paragraphs, with under 500 characters. Include links to your website or product/service that you are talking about. As always, have a call to action at the end of your ad, so your lead knows what the next step is. If you're wondering where to start, take a look at this guide.
Don't Be Too Salesy
We've all received messages on LinkedIn that are way too salesy. There is nothing more annoying than either a message or a message ad that is only interested in making a sale. When you reach out to your prospects, whether it be a direct message or an ad you have created, try to be personable and likable. There is no need to be super formal, you can tell a joke to break the ice, but still be professional.
Need to Identify More Prospects?
It can seem like the number of prospects that you have dwindles over time. But, with the help of Visitor Queue, your business will have a surplus of leads. Visitor Queue is a B2B lead generation software that identifies the businesses that visit your website, along with employee key contact information. This contact information includes phone numbers, emails, and even social media links like Twitter and LinkedIn. So, you will be able to reach out via LinkedIn to prospects that are already interested in your product or service.
Wrap Up
We all know that LinkedIn is a great tool for anyone looking to build professional relationships. When you connect and build relationships through LinkedIn, you can form loyal, lifelong clients. Take advantage of what LinkedIn has to offer and reach out to your prospects on LinkedIn. As always, if you have any questions about Visitor Queue, do not hesitate to reach out!