Tracking your website traffic will be an essential part of marketing in 2023. If your company is not already doing so, it's time to start tracking your website traffic so you don't fall behind your competition. Even if you're already tracking your website visitors, there may be more information you can find out. Fortunately, we've created this comprehensive guide to help you track your website traffic in 2023. Let's go over why it's important to track your website visitors before we dive into this guide.
What's So Important About Tracking Your Website Visitors?
I'm glad you asked! Most people will tell you that your website traffic correlates with the number of conversions you receive. So, more traffic means more conversions. While they're not completely wrong, there's so much more to it. By meticulously tracking your website traffic and visitors, you'll be able to qualify them as leads. As a result, you will see what website content your ideal visitor responds best to. You can then use this information to optimize your website and drive even more conversions. This process may seem complicated, but luckily there are a few tools that you can use to help track your website traffic.
Tools to Help Track Website Traffic
The easiest way to track website traffic is to use a tool to help. There are a ton of website tracking tools on the market. This is why this list includes only the best of the best. We have included our favorite tools that we use on a regular basis to help us track our website traffic and gather key data about visitors to optimize our website experience. Keep reading for the 6 best tools to help track your website traffic.
Our company, Visitor Queue, is one of the most unique yet helpful tools out there. We are a B2B lead generation software that identifies the companies visiting your website. As well as what pages they are visiting, the time spend on those pages, and how they were acquired. It doesn't stop there. We can also identify the key employees that work at those companies including their email address, phone number, and LinkedIn profile. By knowing their visit information, you can better frame your pitch and convert your website browsers into paying customers. Try for free today and stop losing leads.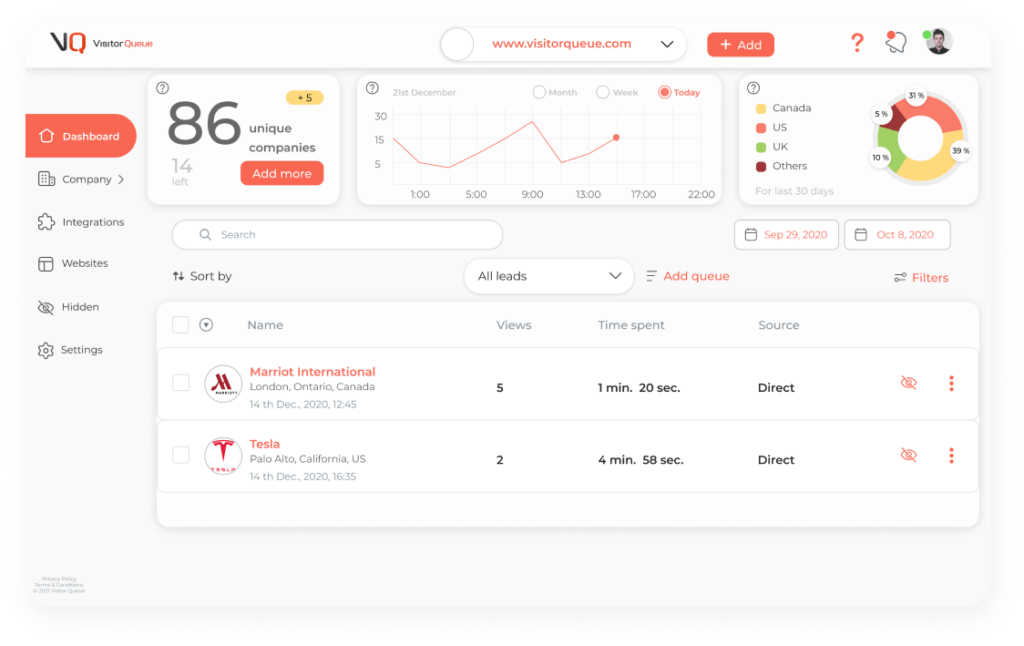 Over the past 13 years, Semrush has grown to offer over 50 tools to help marketing and sales professionals. One of my favorite tools that they offer is the Traffic Analytics Checker. With this tool, you can not only check the stats of your website, but you can also check your competitor's stats. This includes information about website visitors, time on site, geographic location, bounce rate, as well as domain authority and linking domains. This information can help you get ahead of your competition and find new ways to enhance your website.
Hotjar's motto is "Understand how users behave on your site, what they need, how they feel, fast.". This motto is very enticing for marketing managers. Since this information is exactly what we're trying to understand on a daily basis. My favorite tool that Hotjar offers is its heatmaps. Heatmaps analyze your website visitor's behavior and show you exactly what they are interested in.
This information will help you optimize your website based on what your visitors are interacting with the most, as well as what information they may not be as interested in. You can also watch recorded sessions of user visits, which will allow you to see if they have any issues finding what they are looking for or any bugs that you have on your site that you may not know about. Hotjar even offers a free plan which can help you get an understanding of the value they can bring to your company.
Google Analytics is the most-used website analytics software out there. It provides a lot of valuable data and insights that you can use to optimize your website and target the right audience at the right time. Although a lot of the information is anonymous, unlike the data you see in Visitor Queue. But, it's still very useful to help aid in understanding your website visitors. A few of the main areas that I like to monitor are new vs. returning visitors, acquisition, conversion rate, and behavior flow. These reports will allow you to gain more insight into what content your visitors respond the best to. You can use this information to decide if you want to update your content or A/B test different content variations.
Similarweb is an all-inclusive marketing and sales analytic tool. A few of their key tools include Market Research, Benchmarking, Customer Journey, and Audience Analysis. By taking advantage of any combination of their tools, you're sure to gain a lot of insight into your website visitors. They also offer tools that you can use to analyze your competitor's websites. They also offer a free plan for you to try it out for yourself. If you're unsure about which tool will help you achieve your goals, talk to one of their amazing customer service representatives for assistance.
LogRocket is a modern frontend monitoring and product analytics tool that records user visits and monitors product performance on both mobile and desktop. Their in-depth analytics allow you to gain a thorough understanding of your customers and improve their website experience. They also emphasize catching bugs and glitches before they happen, which is an extremely important aspect to SaaS companies. If you're not sold yet, they offer a free plan or even custom plans to best fit your company's needs.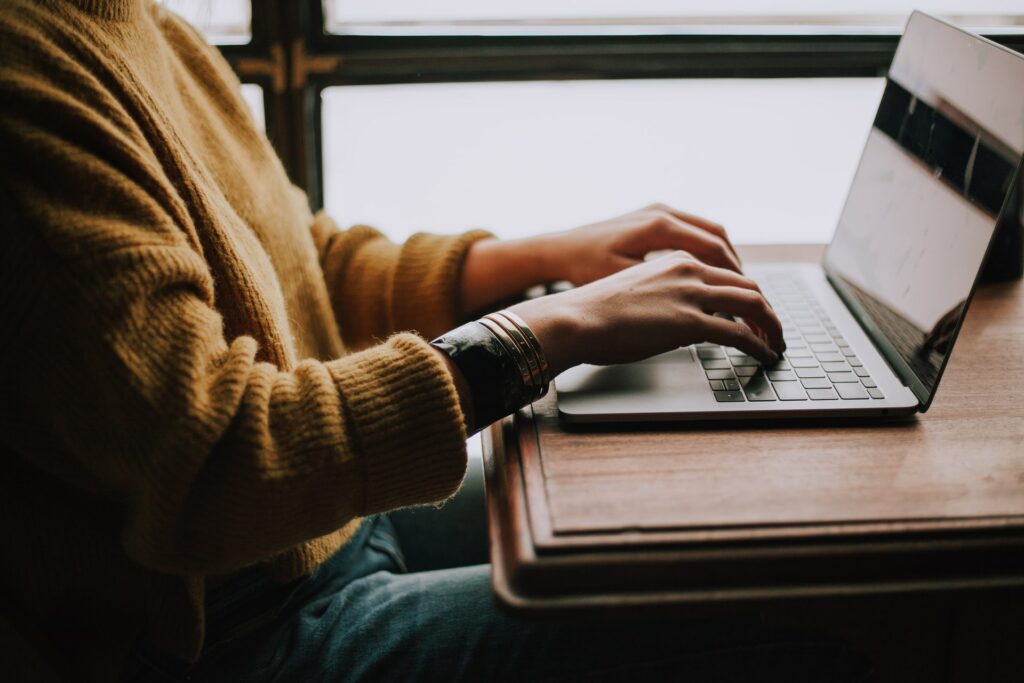 Analytics to Monitor
If your website visitors are not high-quality and relevant to your business, then there's not much of a point in tracking them. Fortunately, there are a few key metrics that you can use to qualify your traffic and ensure your website visitors are going to follow through your sales funnel.
New vs. Returning Visitors
New vs. Returning visitors will help you gain a deeper understanding of your website visitors. If you notice that your customers need to return to your website multiple times before converting, you may need to update your website. A great way to entice your visitors immediately is using a website personalization software. A website personalization software will show your visitors exactly what they're looking for based on their industry, company size, location, or other key factors. To learn more about website personalization take a look at this article.
Acquisition
How you acquire your customers will help you understand what channels you should invest the most into. You should also analyze if certain acquisition channels drive the most results. For example, if you find your website visitors that are coming from your Google Ads have a high bounce rate and are not converting, your ads and your landing page may not represent what your company has to offer. Your acquisition report can be compared to many different metrics and used to optimize both your ads and your website to better reflect your company and ultimately increase conversions. Another way to view acquisitions is in your Visitor Queue account. You can see how the companies on your site got to your website and use this to your advantage when you are reaching out to them.
Behavior
Monitoring your website visitor's behavior may seem self-explanatory, but so many companies do not look in-depth enough. Pageviews, bounce rate, time on page, and exit pages are some of the most important factors to consider when tracking your website visitors. Regularly checking in on these can provide you with a lot of information that you may not have thought of. Comparing weeks, months, or even years can show you what's working and what's not. You can also try out A/B testing different assets on your site, and monitor these metrics to determine which test works the best for your company's goals.
We enable B2B companies to identify the anonymous businesses that visit their website and personalize their experience. Your sales team can now follow up with the visitors that don't convert, while marketing can personalize your website based on firmographic information to drive up conversion rate.
Start your 14-day free trial today!
How to Increase Website Traffic
Now that you know how to track your website's traffic, you're probably going to also want to increase your traffic and track even more visitors. Fortunately, there are a number of ways that you can increase your website traffic. Below I have listed just a few ways, but if you want a more extensive list take a look here. Now, let's go over a few ways that you can increase your website traffic and attract qualified prospects.
SEO
We could sit here talking about the importance of SEO for hours. The fact of the matter is that SEO is one of, if not the most important ways to increase website traffic. SEO, or search engine optimization, refers to improving your website to increase your chances of being on the first page of the search engine results page. Often this includes enhancing your content to include specific keywords, metadata, and optimizing your landing pages. SEO is a great option for businesses of all sizes since it's free, relatively easy to implement, and works to drive traffic over a long period of time.
SEM
SEM or search engine marketing is another very common tactic companies use to increase their website traffic. By advertising on search engines, like Google, you are putting your company in front of more eyes, compared to organically ranking pages. Google prefers ads that are high-quality and relevant to the search terms used. Google doesn't stop there though, it also crawls the landing page attached to the ad to ensure it perfectly aligns with the ad. This can be tricky to perfect. But, if done right, it can result in a lot of great leads that are looking for exactly what your company has to offer. If you're interested in learning more about Google Ads, take a look at this article. I recommend checking on your ads on a weekly basis to ensure they are running smoothly and making updates when necessary. SEM can get pretty expensive, and it's very easy to bid on keywords that do not drive the right kind of traffic.
Write a Blog
A blog is one of the best ways to increase your website's traffic. When you write your blog articles, you'll want to align them to what your target audience would be interested in. For example, if you are a B2B marketing agency, you'll want to focus on topics like sales, marketing, SaaS, and more. Blog articles that are relevant and high-quality can drive thousands of readers a month. This is why you want to include CTAs on your blog, to hopefully convert a few of those readers into paying customers. In addition, the tools that I mentioned above can help you qualify your blog readers. For instance, you can use Hotjar to see which CTAs are being clicked on the most, if the reader is engaging in unique ways, and more. Also, you can use Visitor Queue to identify the companies reading your blog. Since your blog articles target your ideal customers, you can reach out based on the topic they are reading about and follow up.
Final Words
As you can see, tracking your website traffic will continue to be an essential part of marketing in 2023. If you're not meticulously tracking and analyzing your website visitors, you could lose out on a lot of conversions and fall behind your competition. Whatever software you choose to use, I recommend checking them at least 1-3 times a week to ensure there are no hiccups in your digital marketing initiatives. If you have any questions about how Visitor Queue can track your website traffic, let us know!