SEO vs SEM and which is better is a common question between marketing professionals. Marketers are typically very data and result-driven, so it can be hard for us to patiently wait out the success of SEO initiatives. On the other hand, SEM provides almost immediate results with the data to back it up. But if you had to choose just one for your company, would that mean you should pick SEM? Keep reading to find out the answer to SEO vs SEM and which is better for your business.
SEO
Search engine optimization, or more commonly known as SEO, is the practice of enhancing your website based on a multitude of factors set by search engines like Google or Bing. A website that focuses on SEO will have more organic website visitors as they rank higher on search engines. That means their website will appear on the first page of results when someone searches for a relevant keyword. SEO is often overlooked, as it takes longer to see results than SEM. The best thing about SEO is that it's free to implement and requires little upkeep.
Examples of SEO
There are a ton of different ways you can improve your SEO strategy. Like I mentioned previously, SEO strategies tend to take more time to drive results. If you decide to implement any of the following examples, I suggest giving them at least a few months to generate traffic. The examples listed below are all sure to improve your organic website traffic and search engine rankings.
Blogs
The term "blog" is intimidating to a lot of companies out there. But it doesn't have to be. After the initial setup, there is very little upkeep that you'll need to do, other than posting of course. When writing your blog article, you want to ensure that you are using relevant keywords and topics for your business. By doing this, your blog readers will be interested in what your business has to offer. It's always a good idea to include a call-to-action in every blog post, and the ability to subscribe to your newsletter where you can include more information about your business. If you're interested in learning how a blog can lead to more sales, check out this article here.
Link Building
Link building often goes hand-in-hand with blog content, but it doesn't have to. It refers to exchanging website links with another company in order to build your online reputation. When you exchange links, you want to make sure that they are coming from a variety of websites and not the same one over and over again. A good way to think about this is if you have one friend who says they like your cooking 100 times vs 100 friends who say they like your cooking once. You're going to trust 100 people's opinions over one. It's also important to exchange links indirectly, meaning if one website adds your link, you'll need to add theirs to a different site. If not, search engines will pick up on the link exchange and flag it.
Keywords
When you are building your website, it's important to keep keywords in mind. Keywords are a big part of what makes your website rank organically. Essentially, keywords are important words that represent your business. Let's take Visitor Queue for example, we are a B2B lead generation and personalization company. This means we will want to include "lead generation", "B2B lead generation", "personalization", and other variations of these terms into consideration when building new content for our website. If you take a look at the pages on our website, you will notice that all pages include a variation of these terms. This makes our website rank better for those search terms and hopefully appear before our competitors on search engines. A great tool to help you discover keywords that you should include is Google Keyword Planner. I will talk about this in more detail later on.
Metadata
Metadata is another important factor that goes into SEO. This type of data can include meta descriptions, keywords, title tags, and image data. This information also helps search engines decide what kind of business you are, which will then help them suggest your website over others that may not have it or don't have great data. Metadata also helps a lot with accessibility, which search engines love. If you're not familiar with metadata, I would suggest taking a look at metadata.io. They are a company that helps businesses enhance their data and improve visibility.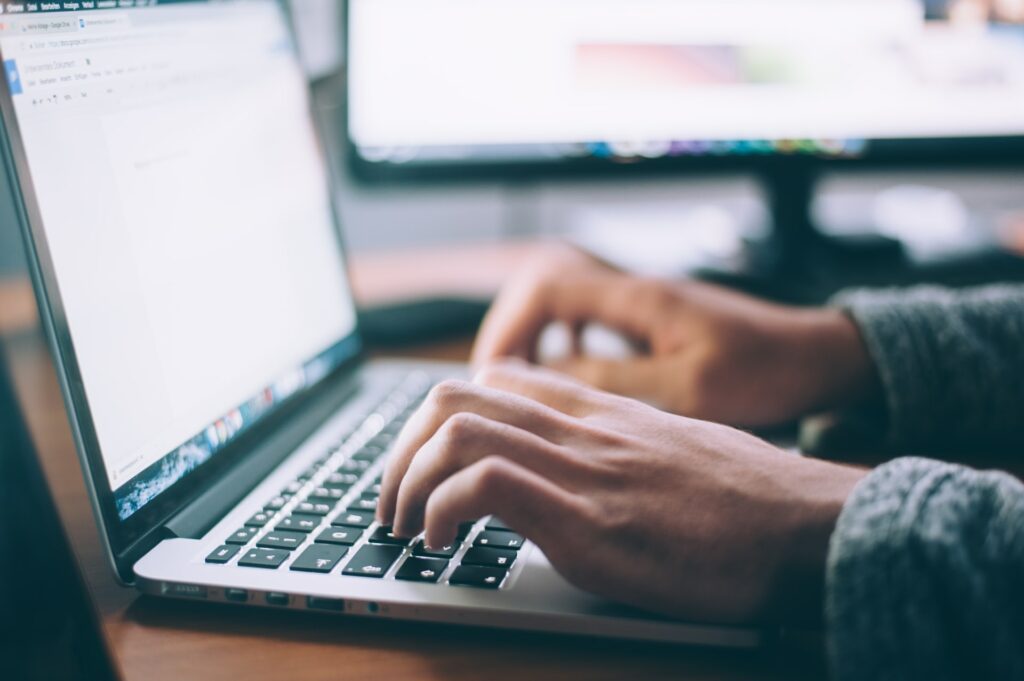 SEM
Search engine marketing, or SEM, refers to paid advertising on search engines. Google Ads is the most commonly used form of SEM. The nice thing about SEM is that results are more trackable and you can start seeing them almost immediately. However, SEM requires a lot more upkeep and monitoring to ensure everything is running efficiently. In addition, SEM can get pretty expensive if not done properly.
Examples of SEM
SEM is pretty straightforward and there are not as many examples of different marketing initiatives. However, there are a variety of tips and tricks that you can use to enhance your search engine marketing. First, we are going to talk about Google Ads, and then go over some ad strategies to enhance your efforts.
Google Ads
Bing, Yahoo, Safari, and other search engines will fall under this umbrella too, but Google Ads is the most well-known and effective platform. Any time you search for something on Google, you're probably seeing an ad before the organic results. The best thing about Google Ads is how easy it is to learn and use. And if you do get stuck on something, Google has a plethora of resources to help. If you have never used Google Ads before, I would recommend getting Google Ad certified. If you've already taken that course and you're looking to improve your Google Ads, check out this article about how to improve your Google Ads to increase conversions. When you have your Google Ads account set up, you should regularly check on your account to ensure it's running optimally. I would suggest checking on your account a few times a month.
Google Ads Quality Score
Google Ads Quality Score is how Google ranks how effective your ads are compared to other advertisers similar to you. Your ads will be scored from 1-10, 10 being the highest Quality Score you can receive. There are three main factors that go into grading your ads, expected clickthrough rate, landing page experience, and ad relevance to searchers. Ads that have a high Quality Score are more likely to be the first ad on the results page. If you want to learn how to use your Quality Score to your advantage, take a look at this article by Google.
Bid on Your Competitor's Brand Name
If you're in a competitive industry, bidding on your competitor's brand name is a great strategy to reroute their customers to you. Not just that, you can even use any SEO tool that has Google Ads API feature to get more insights into what are the keywords that your competitors are bidding on, which can help you to plan your Google Ads strategy. It might be surprising that you can do this, but it's completely legal. This tactic has helped our company grow exponentially over the years. Below is the perfect example of multiple companies doing this. When you search for "agile crm" there are four other companies that appear before Agile CRM's company. This is because they are bidding on their keywords and creating ads that include "Agile CRM Alternative" headings. If this tactic seems interesting to you, here is a great video that will explain how to do this step-by-step.
SEO vs SEM – Which is Better?
If your business is in it for the long run and needed to pick one or the other, I would suggest SEO. It can take longer to see results from SEO initiatives, but it often has a higher reward than SEM. SEM is great but it often results in fewer interactions including clicks and conversions than SEO. However, a lot of established businesses tend to use both. SEM is a great addition to SEO if you're in a competitive industry where all of your competitors are advertising. In this case, it's almost essential that you use both if you want your website to be served on the first page of search results.
Short-Term vs Long Term Marketing
Like I mentioned above, SEO tends to take longer to see results. On the other hand, you can see results from SEM almost immediately. It's important to understand your company's goals in order to decide which marketing tactic your company is going to implement first. For example, if you're having a promotion that is going to only last a few weeks, you're better off choosing SEM to get the information out there. But, if you're adding a new, permanent product to your website, SEO might work better. For more information on short-term and long-term marketing, take a look at this article here.
We enable B2B companies to identify the anonymous businesses that visit their website and personalize their experience. Your sales team can now follow up with the visitors that don't convert, while marketing can personalize your website based on firmographic information to drive up conversion rate.
Start your 14-day free trial today!
How to Track Success of SEO vs SEM
Tracking the success of your marketing initiative is crucial to understanding the success of your efforts. Regardless of what kind of marketing campaign you are running, it's crucial that you monitor their analytics and data to ensure they are successful. SEM is easy to track right in your advertising account, but there are other great tools out there that can show you even more data. SEO definitely has less data that you can analyze, but there are some ways you can see the success of your marketing efforts. Here are a few of my favorite ways to track the success of our SEO and SEM strategies.
Google Keyword Planner
Google Keyword Planner is a tool that every marketer should use! It can help you find search terms that potential customers are looking for, and you can include them on your blog, website, and metadata to help your website appear for them. For SEM, keywords are essential. You will need to use keywords to frame your ads around. If you don't research the keywords you are using, then there's a good chance they won't be as successful. Best of all, it's free to use!
Google Analytics
Google Analytics is the most used tool out there, for good reason. In your Google Analytics account, you can see a ton of information about your website visitors. Analyzing data is a little easier for SEM. A lot of the data you should be looking at can be found under the Acquisition tab and then click Google Ads. In regards to SEO, you can see if your organic traffic is increasing or decreasing, your bounce rate, and how many conversions your organic website visitors are doing. It's helpful to compare your conversions between organic traffic, google ads, social media and other channels. However, it may be discouraging to see that 98% of your website visitors leave your site without converting. Next, we're going to talk about how you can fix that.
Visitor Queue

It's always encouraging to see your website visitors increase over time in your Google Analytics account. But wouldn't it be nice if you could see who those website visitors are? Luckily you can with the help of Visitor Queue. Visitor Queue is a B2B lead generation software that can identify the businesses that visit your website, along with their source/medium so you can see if they came to your website from Google Adwords or organically. We also tell you information about the employees who work at those companies, including their contact information like email addresses, phone numbers, and social media links. Generate 10-20% more revenue with Visitor Queue!
SEO vs SEM
As you can see, there is are a lot of factors that go into deciding between SEO vs SEM marketing. Ideally, your company should take advantage of both. But we know that's not always possible. Like I mentioned before, if you're not in a time crunch and you need to choose one, I would suggest SEO because it can result in more website traffic over time. If you are short on time, SEM can be more useful. Whatever marketing initiative that you choose, ensure you align it with your company goals and objectives.
If you have any questions about how to use Visitor Queue to identify your website visitors and generate more revenue, don't hesitate to reach out.