As a B2B company, you're always looking for new ways to identify potential customers and generate leads. One thing that you've probably asked yourself is, "Can I identify anonymous website visitors?". In short, not really. I know, I know, life would be so much easier if you knew exactly who was on your site so you could contact them and sell to them.
However, it is possible to identify the companies that visit your website. This is great news for B2B companies out there looking to generate more revenue. I have been asked this several times. The fact of the matter is there is no software out there that can identify people for you. People/users must give you that information via a live chat, contact form, email sign up etc. for you to identify them. In fact, a software of this type would break several privacy laws. And I'm sure would cause uproar amongst consumer groups (because it's creepy!).
However, since you're looking for something in that ballpark, you may be interested in the following products that provide similar-ish services.
Why Would You Want to Identify Your Website Visitors?
There are a ton of different reasons why you would want to know who is visiting your website. Everything from marketing and sales to optimizing your website and personalization can be jumpstarted by knowing who is on your site. The possibilities are truly endless with what you can do with that information in terms of marketing.
If you're interested in identifying your website visitors, using a CRM software can help manage your leads will make your life a little easier. With a CRM like Hubspot or Salesforce, you can send your leads automated emails, assign them to salespeople, and analyze data about your leads. We'll talk about that more later.
Visitor Queue – Identify anonymous companies visiting your website
While you can't identify the people/users that visit a website, our powerful lead generation software allows you to identify anonymous website visitors as companies. We also tell you what the company did on your website, where they came from, contact information and who the key employees are. We also provide contact information for those employees, with emails, phone numbers, and LinkedIn links. This information is available in our cloud-based dashboard or through integrations like Salesforce and Zapier. We utilize industry-leading IP address reversal technology in order to do this.
CRM & Live Chat Software – Track Your Traffic
Several CRM and live chat software give you the ability to track visitors that return to your website once you have already identified who they are. Often, you have previously identified these users because they provided their email address in a contact form on your website. Contact forms can include newsletter subscriptions, asking a question that requires you to fill out your information, and much more.
The following are a few software that can do this, that are worth looking into:
Live Chat
CRM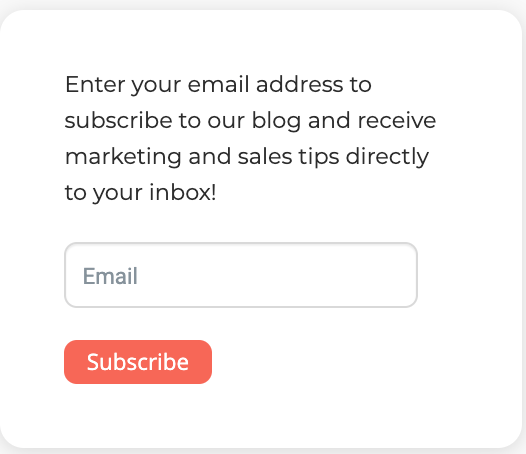 This is an example of a contact form, where our readers can subscribe to our blog newsletter. Then, their contact information is added to our CRM so we are able to stay in contact with them.
We enable B2B companies to identify the anonymous businesses that visit their website and personalize their experience. Your sales team can now follow up with the visitors that don't convert, while marketing can personalize your website based on firmographic information to drive up conversion rate.
Start your 14-day free trial today!
Google Analytics is the most powerful website analytics software on the planet. And it's also the most common. While it doesn't allow you to identify end-users that have visited your website, you can measure the users on your website easily and in-depth. Identify what they did, where they came from, the devices they used etc. all within their platform. Best of all, it's also free!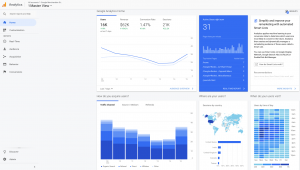 While you may not be able to identify the people/users that visit a website, these three software give you unprecedented marketing and sales information to help you grow your business.
CRM
A CRM or customer relationship management platform will help you manage all of your new leads easily and keep your team organized. We mentioned Hubspot and Salesforce previously, but another great and more affordable option is Agile CRM. Agile CRM is not as fancy, and doesn't come with all of the same bells and whistles, but it does the job.
Whether you have set up an account with Visitor Queue or you have added a live chat feature to your website, you can add the information you collect into a CRM. One of the most popular ways to organize new leads is to set up a drip email campaign that will automatically send your new leads a follow-up of some sort. The follow-up really depends on your business, and you should include relevant information.
GDPR & CCPA Compliancy
It's natural to feel a little concerned regarding privacy policies. General Data Protection Regulation (GDPR) and California Consumer Privacy Act (CCPA) are strict regulations that companies must comply with. If they don't, the business can receive hefty fines, punishment, or even being forced to close. Luckily, all of the software and tools on this list are completely compliant with both regulations. When you add a tracking software to your website, you should add a disclaimer with your cookie policy. Here is an example of ours.
Wrap Up
While you can't identify all anonymous website visitors, there are plenty of tools and techniques that you can use to learn more about them. By leveraging a software like Visitor Queue, you can identify the companies that visit your website. This can help you gain valuable insights into your audience and help you build relationships with prospective customers. Be sure to follow best practices for data privacy and transparency based on your respective region. If you have any questions about how Visitor Queue can identify anonymous website visitors, do not hesitate to reach out!