I hate to be the bearer of bad news, but it is not possible to identify anonymous website visitors unless they are a company! I have been asked this several times and there is no software out there that can identify people for you. People/users must give you that information via a live chat, contact form, email sign up etc. for you to identify them. In fact, a software of this type would break several privacy laws and I am sure would cause uproar amongst consumer groups.
However, since you're looking for something in that ballpark, you may be interested in the following products that provide similar-ish services.
Visitor Queue – Identify anonymous companies visiting your website
While you can't identify the people/users that visit a website, our powerful lead generation software allows you to identify anonymous website visitors as companies. We also tell you what the company did on your website, where they came from, contact information and who the key employees are (with emails and phone numbers). This information is available in our cloud-based dashboard or through integrations like Salesforce and Zapier. We utilize industry leading IP address reversal technology in order to do this.
CRM & Live Chat Software – Track Your Traffic
*Please note here the difference between tracking and identifying your traffic.
Several CRM and live chat software give you the ability to track visitors that return to your website once you have already identified who they are. Often, you have previously identified these users because they provided their email address in a contact form on your website.
The following are a few software that can do this, that are worth looking into:
Live Chat
CRM
We enable B2B companies to identify the anonymous businesses visiting their website so they can follow up with them and increase revenue. 98% of website traffic leaves without converting -
start your 14-day free trial
to identify who they are today!
Google Analytics is one of the most powerful website analytics software on the planet. While it doesn't allow you to identify end users that have visited your website, you can measure the users on your website easily and in-depth. Identify what they did, where they came from, the devices they used etc. all within their platform. Oh ya, it's also free!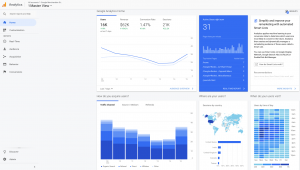 While you may not be able to identify the people/users that visit a website, these 3 software give you unprecedented marketing and sales information to help you grow your business.
While you're here!

98% of your website visitors are leaving without converting. Visitor Queue allows you to identify and reconnect with those visitors so you never lose a deal again! Receive regular email notifications, view leads on our dashboard, and/or integrate with your favourite CRM or MAP. All of this starting at $22 USD per month. Start your 14-day free trial now!