With nearly 800 million members in over 200 countries, there's no question why your company is interested in LinkedIn marketing. LinkedIn is one of the best ways to generate highly qualified leads, quickly. Not to mention that it's also a great way to stay in touch with long-term clients and keep them up-to-date on company news. Although LinkedIn is a great marketing channel, if you're not using it to its fullest potential, it can get very expensive very quickly. And, not yield the results you're looking for. So, let's get into the complete guide to LinkedIn marketing and how to get the most out of your LinkedIn efforts.
Get Familiar With Your Funnel
Having a thorough understanding of your sales funnel is the first step in optimizing your LinkedIn marketing efforts. If you are not familiar with your sales funnel, a lot of your marketing and sales efforts can become a guessing game. This will result in a loss of both time and money. Understanding your sales funnel will help you reach out to the right people at the right time. It can take a lot of work to fully understand, but it's well worth the effort in the long run. If you need help with your sales funnel, here is a great resource to help you get started. Once you fully understand your sales funnel, you're ready to start your LinkedIn marketing efforts.
Complete Your Profile
Far too often marketers will start advertising on LinkedIn, without completely optimizing their company's page. If a user clicks on your company's page, they should see an abundance of content, a thorough description, clear logo, and overall a complete profile. On the other hand, if you're going to be reaching out on LinkedIn yourself, using message ads, sharing your company's content, or social selling, your personal profile also needs to be complete. By completing both your company's page and your personal profile, prospects will be able to trust you, and are ultimately more likely to become a paying customer down the line.

Organic vs. Paid LinkedIn Marketing
Before you start LinkedIn marketing, you'll have to consider if you want to invest in paid marketing, organic marketing, or a combination of both. While there are pros and cons to both, if you've never used LinkedIn before, it's best to start off with organic marketing.
Organic
Organic LinkedIn marketing is pretty vast, and includes a number of different initiatives. I recommend that every company uses organic LinkedIn marketing. It's a great way for people to stay up-to-date with your company, and it's free. Organic LinkedIn marketing can include anything from sharing your blog articles, other company's articles that you're featured in, to industry trends, video marketing, and everything in between. Because there is such a variety in the content that you can share, it's best to switch up your content.
Switch Up Your Content
Your followers don't want to see one type of content over and over again. It's best practice to share a variety of content, and see which forms of content perform the best. Likes and comments don't always mean your content is performing well, you'll need to consider clicks and engagement. For example, if you share a funny meme that relates to your industry, it will probably receive more likes than a promotional piece of content. But, your promotional content may receive link clicks, which can result in conversions. There is a happy medium between promotional, educational, and more casual content. It can take a lot of trial and error to find what your followers respond best to. But, try to stay consistent with how frequently you post. This consistency will help you increase your follower count.
Increase Your Follower Count
Like any other social media platform, your follower count is important. The more followers you have, the more eyes you'll get on your content. When one of your followers engages with your content, your content can appear on their follower's feed. If you're having a hard time increasing your follower count, you can easily invite your connections to follow your company's page. You are limited to 100 invites a month, but this is a great way to increase your follower count. To learn more about this tactic, check out this guide.
Paid
On the other hand, we have paid LinkedIn marketing. LinkedIn has a number of different ways that you can target highly qualified prospects with ads. But, because you can target such a specific audience, running ads can get pretty expensive. If you know how to optimize your ads, the ROI can be well worth the initial investment.
Message Ads
One of the best and most unique ways to advertise on LinkedIn is through message ads. You've probably received a number of message ads yourself, and it's hard not to be enticed by them. When crafting your message ad, you want to start off on the more casual side. If you start your message with a pushy sales pitch, it can deter prospects from reading the entire message. Include information relevant to their industry, how you can solve a problem they're facing, and a call to action that takes them to a webpage so they can continue learning. If you use message ads, try to run two similar, but different ads to test out which format drives the best results.
Remarketing
Remarketing is a useful tactic that will serve your previous website visitors an ad to remind them about your company. Since your website visitors are already at the top of your sales funnel, showing them a specific ad can help drive them further down the funnel, and closer to a conversion. In fact, prospects that are served remarketing ads are 70% more likely to convert. This is a pretty impressive stat, making remarketing one of the best ways to advertise on LinkedIn.
Social Selling
The practice of social selling aims to improve and retain your relationships with long-term customers, as well as attract prospective customers. Connecting with your prospects and clients past surface level will help your company build trust, and drive a few conversions along the way. Often social selling includes connecting with clients and prospects, and then liking, commenting, and even messaging them about what they are sharing. If you decide to message them about a certain blog article they shared, it's important that you've thoroughly read the blog article and you can have a good conversation about it. The goal here is to improve relationships, not directly sell.
LinkedIn Sales Navigator
LinkedIn Sales Navigator is a paid service that LinkedIn provides to help salespeople and marketers generate highly relevant and qualified leads. This tool will help guide you to people who fit in your target market and are looking for a solution. Then, it will help you reach out to them at the right time, with message templates, time suggestions, and more features. It also provides insight on your target audience that you might have never even considered. You can choose between an individual account or a team account if you have large sales and marketing teams.
LinkedIn Analytics
The analytics that you focus on will depend on if you're using paid, organic, or a combination of both. Just like any other form of marketing, your analytics will help you understand what works, and what could use a refresh. When you are looking at your analytics, you'll also want to consider if your company goals are aligned with your LinkedIn marketing goals. Here are a few of the main analytics that you should consider.
We enable B2B companies to identify the anonymous businesses that visit their website and personalize their experience. Your sales team can now follow up with the visitors that don't convert, while marketing can personalize your website based on firmographic information to drive up conversion rate.
Start your 14-day free trial today!
Visitor Analytics
At the top of your company page, you will see a dropdown menu for your analytics. If you click on the "Visitors" tab from the dropdown menu, you will be able to see many different visitor analytics. Page views, unique visitors, and button clicks are all great analytics that will help you understand how your LinkedIn strategies are improving. I find the visitor demographics section is also very useful, and can help you optimize both your paid and organic marketing efforts.
Cost Per Conversion
If you're using paid LinkedIn advertising, then cost per conversion is one of the most important metrics that you need to monitor. In your LinkedIn Campaign Manager account, you will see your conversions and cost per conversions for each of your campaigns. Your cost per conversion will likely be higher on LinkedIn than other social media channels. But, you want to ensure that your conversions are yielding a positive return on investment. If your cost per conversion is $300, but your average customer only spends $250, then you will have a negative ROI. This means you need to reduce your cost per conversion.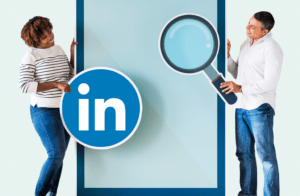 Acquisition
In your Google Analytics account, you can see the number of visitors that are acquired from LinkedIn. Here, you can compare how many website visitors are acquired from all social media channels. If you click on LinkedIn in your acquisition report, you can see exactly what pages they landed on. Your acquisition report is very useful to help you understand both paid and organic marketing efforts. Although this is a great way to understand more about your website visitors, unfortunately, you can't identify the companies that are acquired from LinkedIn.
A/B Testing
Whether you're using paid or organic LinkedIn marketing, A/B testing can help you drive a lot more success. The process of A/B testing refers to comparing two similar, but slightly different pieces of content. Then, comparing the results. A/B testing will help you understand what kind of content your prospects resonate the most with. You can continue to use that type of content. If you decide to use A/B testing, ensure all controllables are the same. This will ensure your data will have the most accurate results possible. As an example, if you want to run two different ads with the same CTA, ensure that they have the same budget and are set up exactly the same so you can truly test how the content itself performs.
Identify What Companies Are Clicking
Want to know exactly what companies are landing on your website through LinkedIn marketing? Whether you're investing in paid or organic LinkedIn marketing, Visitor Queue can tell you exactly what companies are engaging with your LinkedIn content. We are able to identify the companies that visit your website, how they were acquired, whether it be from LinkedIn, organically, and more, as well as what pages they viewed on your website. You can use this exclusive data to reach out to these prospects and try to convert them into a paying customer.
On the other hand, if you're struggling to find new LinkedIn prospects, you can use our handy Find Contacts on LinkedIn ability. The companies on your website are already in your funnel, find their employees on LinkedIn and start social selling! Start your free trial of Visitor Queue and stop losing leads.
Final Words
LinkedIn is one of the best resources for both marketing and sales professionals. Although LinkedIn marketing can be a lot of work initially, if done correctly, it can drive an impressive return on your investment. If you don't know where you should start, I would recommend completing your company page and personal profile. Then, start posting organic content. Once you have a regular posting schedule and your page looks reputable, you can research how to advertise on LinkedIn. If you have any questions about how Visitor Queue can enhance your LinkedIn marketing strategies and identify your website traffic, don't hesitate to reach out.