Properly managing your leads can help you convert more leads into paying customers. But, we all know that it's not as easy as it sounds to generate qualified leads, and guide them through your sales funnel to the point of conversion. By using one of the best lead management systems mentioned on this list, your marketing and sales team can stay organized, monitor analytics, and drive more revenue. Before we jump into the best lead management systems, let's review what lead management is.
What is Lead Management?
By definition, lead management is the process of generating leads and managing them until they convert into a paying customer. Lead management will look different for every company, so it's essential to be familiar with your sales funnel. Lead management systems are often referred to as a CRM. To perfect your lead management initiatives, you'll need to pair your lead generation strategies with a CRM that will help guide your leads, and convert into paying customers. Before we go over the best lead management systems, let's quickly review a few ways that you can generate those leads.
How to Fill Your Lead Management System with Hot Leads
In order to use a lead management system, you need to have leads to manage! However you decide to generate leads, ensure you have integrated your lead gen method with your lead management system. If your lead generation method doesn't directly integrate with your CRM, I highly recommend checking out Zapier. This handy tool will allow you to integrate almost any software with your lead management system, saving you time and money. Next are a few of my favorite ways to generate qualified leads.
Visitor Queue
Visitor Queue is one of the best and easiest ways to fill your lead management system with qualified leads. Simply by adding a tracking script to your website, you gain insight to the companies that visit your website. You can see how the company was acquired, what pages they viewed, as well as information about what the company does, their industry, and more, to help you qualify them as a lead. Reach out to the key decision makers at each company with the email addresses, phone numbers, and LinkedIn accounts within your Visitor Queue account. Integrate your Visitor Queue account with your favorite lead management systems, and send leads straight to your CRM to follow up. Start your free trial of Visitor Queue today and stop losing leads.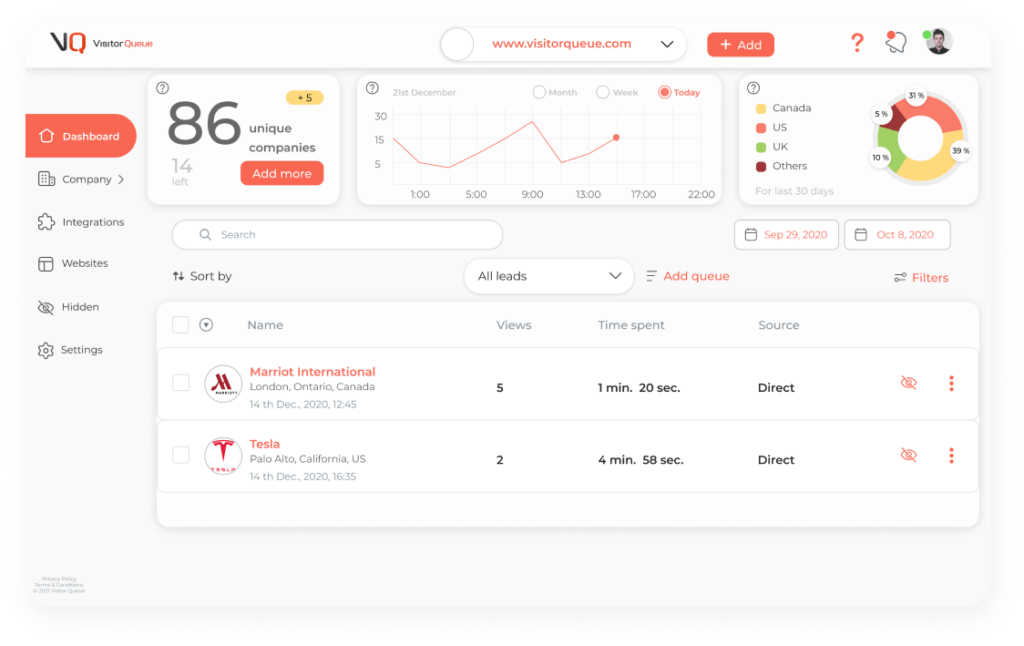 Gated Content
Gated content is another way that you can generate highly relevant leads and send them straight to your lead management system, where you can automatically follow up. Video series, webinars, ebooks, and exclusive datasets are all popular forms of gated content. But, there are other forms of content that you could use. When creating your gated content, ensure that it's unique information that is highly relevant to what your company has to offer. When a lead submits their contact information to access the content, their information can automatically be sent to your CRM to follow up.
Trade Shows
Depending on your company, trade shows can be a great way to generate a lot of leads, quickly. While it's important to keep in mind that trade shows are a huge investment of time, money, and other resources, you have the potential to talk to thousands of leads over the course of a day or two. Getting in front of this many leads this quickly is pretty much unheard of otherwise. If trade shows pique your interest, be sure to check out Trade Show Marketing: A Complete How-To Guide to learn the best way to generate high-quality leads at a trade show.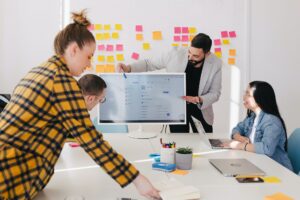 10 Best Lead Management Systems
Now that you know how to generate high-quality leads, it's time to go over the 10 best lead management systems on the market. We have compiled this list considering price, usability, and reviews.
The first lead management system on this list is Less Annoying CRM. This software is not as well-known as some others on this list, however, it is a great option for small businesses. They built their product with three features in mind, ease of use, affordability, and dependable customer service. Less Annoying CRM offers lead management, calendar management, and organization features to help you guide leads throughout your sales funnel, and keep them engaged after they have converted. Their prices can't be beat, with plans starting at just $15 USD per user. They have 4.9 out of 5 stars on G2.
Pipedrive is a sales-focused CRM that has options for both small and large companies. They proclaim that if your team uses Pipedrive, nothing falls through the cracks, allowing your team to spend more time selling. With Pipedrive, you are able to track email opens and clicks, automate emails, identify new opportunities, and more. Pipedrive has four plans for you to choose from, starting at $25 USD per month. They have 4.2 out of 5 stars on G2.
With the help of Zoho CRM, you are able to attract, retain, and impress your prospects as well as current customers. With these tools, you are able to create a strong customer-centric marketing plan, which will lead to happier customers. Zoho CRM offers four different plans, including a free edition. Zoho CRM plans start at $20 USD per month. They are one of the most popular CRM options on the market, with over 2,000 G2 reviews, ranking 4.0 out of 5 stars.
Capsule CRM was launched after its founders were frustrated with the current CRMs on the market. This mindset is often how the best companies are born, as the founders have first-hand experience with the best and worst parts of the industry. Capsule CRM offers contact management, email marketing, and sales analytics to help you seamlessly manage your leads. They offer four plans, starting at $18 USD per month. They have 4.3 out of 5 stars on G2.
Insightly is both a lead management system and a project management system bundled into one convenient software. They offer a variety of tools for managing your contacts, including email marketing, workflow automation, and lead routing. Their lead routing feature tracks leads based on their activities, and sends them directly to the right sales rep to follow up. They also have great marketing and sales analytics to help you optimize your strategies. They offer plans starting at $29 USD per month. And, they have 4.2 out of 5 stars on G2.
FreshSales CRM is a division of FreshWorks, so if you're looking for multiple solutions, FreshWorks may be able to help. A few of their features include contact management, email marketing, deal management, and offer a ton of integrations. This software is ideal for small businesses. They have a free plan, and paid plans starting at $18 USD. FreshSales CRM has 4.6 out of 5 stars on G2
We enable B2B companies to identify the anonymous businesses that visit their website and personalize their experience. Your sales team can now follow up with the visitors that don't convert, while marketing can personalize your website based on firmographic information to drive up conversion rate.
Start your 14-day free trial today!
Formerly PipelineDeals, Pipeline CRM allows you to seamlessly track, organize, and manage leads. This software was made by salespeople, for salespeople. So, they have an understanding of what salespeople look for in their lead management software, and what common struggles and complaints are. They offer great solutions for sales pipeline management, lead management, and even onboarding services to ensure your new team members know how to get the most out of their CRM. Pipeline's prices start at $25 USD per month, and have a 4.4 out of 5 star rating on G2.
Thryv (thrive) is a lead management system perfect for small businesses. They state that they're a powerful end-to-end platform that can transform your business. Thryv can help you engage and nurture leads and opportunities, and increase the likelihood of them converting. They offer unique data enrichment features that will pull additional contact details from social media profiles, like LinkedIn and Twitter, to help you better understand your prospects. They offer custom pricing plans based on the features that you need. Thryv has 4.6 out of 5 stars on G2.
Salesforce is one of the most popular and well-known lead management systems on the market. Every feature that you'd ever want or need in a CRM, Salesforce has. Additionally, they offer amazing onboarding tutorials along with great customer service from start to finish. Salesforce is widely used by large and enterprise-sized organizations as it can get pricey. They offer custom pricing plans based on the features you'd like included. Salesforce has 4.2 out of 5 stars on G2.
Apptivo offers lead capturing, conversion tracking, sales analytics, and more features to help you manage leads. They also integrate with a number of popular software to help you get the most out of their system. Additionally, you are able to download their mobile app to increase productivity and boost client relationships on the go. They offer a lite plan for $10 USD per month, which is meant for small teams. Their next level, premium, is $15 USD. They have 4.3 out of 5 stars on G2.
CRM Management and Optimization
After using a lead management system for a few months, it can quickly become filled with unqualified leads, unfinished email sequences, and features not being used to their full potential. As a result, it can become disorganized and difficult to track and optimize your strategies to increase conversions. As a result, regular CRM maintenance can help you increase productivity. If you're not sure how to manage and optimize your CRM, here is a great guide to help you get started.
Wrapping Up
There are a ton of great lead management systems out there. If you're not sure which software is the best option for you, try to narrow down your search to a few, and compare their prices, integrations, key features, and reviews. As an example, if you use a software every day for your billing, but only one out of three CRMs have a direct integration with the billing software, that might be the easiest route to take. But, don't forget that generating leads is the first step in this process. If you have any questions about how Visitor Queue can help you generate leads, don't hesitate to reach out.