Trade show marketing is one of the best ways to generate highly qualified leads, while improving your relationship with current clients. You can talk to thousands of prospective customers in just one day. Your sales team will have the chance to talk to prospects that have similar pain points, and demonstrate how your product can make their life easier. But, if not done right, you can end up wasting a lot of time and money. This is especially important to consider since the average cost per lead for trade show marketing is a whopping $811. This is why we have created this guide to help you perfect your trade show marketing efforts.
Lead Generation
The main goal of trade show marketing is to generate highly qualified and relevant leads for your company. Lead generation should always be at the forefront of your marketing efforts. This is extremely important because trade show marketing can get very expensive very quickly. As an example, if your hosts are constantly talking to people who would not be a qualified lead, there's a good chance you could lose out on other opportunities. There are a number of ways that you can optimize your trade show marketing efforts for lead generation, and should be included in every step along the way.
Budget
If you're interested in attending a trade show, you need to set your budget first. If you don't set your budget first, you can easily end up spending way too much. You should start planning your budget by researching costs of a few shows that you would be interested in, how much you'll need to pay your employees, employee accommodations, giveaway items, and your booth design. After you have an estimate of how much your company will spend on the event, you'll need to compare how much money the average client spends with your company. Then, you can calculate how many leads that you need to convert from the trade show to make your money back. If you estimate that the trade show will cost your company $30,000 and your average customer spends $1,000, then you would need to convert at least 30 leads to make your money back. Of course, you would want to aim for more, but this is a good starting point.
What Trade Show Are You Attending?
After you have compiled a list of a few trade shows you're interested in, you should go through all of the pros and cons of each. How much do they cost to attend? How many attendees are expected? Do the attendees align with your target audience? What are the other companies attending? Are your competitors attending? These are just a few of the questions that you can use to compare which trade show aligns best with your company. When choosing the trade show you want to attend, look through the rules and guidelines that they have in place to ensure the day of the show runs smoothly. For a list of the best marketing trade shows to attend, take a look at this list.
Are Your Competitors Attending?
When you are figuring out which trade show to attend, you'll want to try to see if any of your competitors are attending. Usually trade shows will release a list of the companies that are attending the show. If you see your competitor's names on the list, check and see if they have previously attended this trade show or any other trade shows that are similar. Then, you can see what their previous booth looked like, any games they hosted, giveaways, and other factors. Use this information to stand out from the competition. You don't always have to spend more to outdo them, you just have to out smart them.
Marketing
Attending a trade show is a great opportunity to share this on your social media sites, website, and email newsletters. You'll want to try and get the word out about the trade show and try to entice prospects that are close to converting. Plus, trade shows are a great place to improve your relationships with current clients. Include sneak peaks to your booth design, games you're hosting, giveaways, and more without giving away too much of the surprise. If you decide to give away promo codes or discounts to prospects, it could entice those that are on the fence about trying out your product. Then, you'll be able to onboard them and turn warm leads into conversions.
Booth Design
When you are getting ready for a trade show, you'll need to design your booth. Booth design is a pretty lengthy process and is one of the most expensive aspects of attending a trade show. You'll want to start designing your booth a few months in advance, just in case there are any hiccups in the process. If this is your first time creating a booth for a trade show, I would highly recommend consulting with a firm that specializes in creatives like booth design. Bring them your ideas, and they can give you advice on how to improve and how to successfully execute the booth. When designing your booth, you'll have to consider who will be hosting the booth.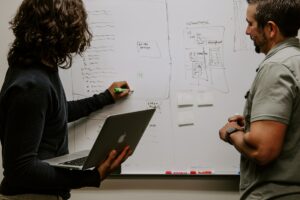 Hosts
The employees that you choose to host will make or break your trade show marketing plan. The number of hosts you have will depend on the size of your booth. If you have a small booth, you don't want to squeeze in 10 hosts because you won't have room for enough prospects. I recommend having at least three hosts. Just in case someone needs to have a break or grab a bite to eat, there's not just one host left. When choosing the hosts, you'll want to ensure they are an outgoing individual and have vast product knowledge. If you have a SaaS product, it's very helpful to have a developer or someone with a lot of experience with the product to ensure all of your prospect's questions are answered. When choosing your hosts, you'll want to think of the type of trade show games they'll be hosting.

Trade Show Games
In order to attract prospects to your booth, you'll need to stand out from other booths. To do this, you can use trade show games. Trade show games are a great way to entice prospects. Then, your hosts have the important job of keeping them interested. There are a ton of different games and activities that you can do. But, you'll want to align the game to what your company represents. Plus, you'll need to keep lead generation in mind. If you're not sure what kind of trade show games can help you generate leads, take a look at this article.
Giveaways
Pairing giveaways with your trade show games is a great way to entice even more prospects to visit your booth. After all, who doesn't want free stuff? But, because of that mindset, you need to make sure that your giveaways are going to help your team generate leads. If you decide to give out t-shirts, they need to be branded. Or, if you hand out prize bags, include a business card and a promo code. One of my favorite giveaways is a raffle. Prospects can put their business card or fill out a short form and add it into the draw. You can give away a lifetime membership to your product, so all of the prospects entering are highly qualified and interested in your product. To learn more about trade show giveaways, check out this list of the 5 best trade show giveaways to increase leads.
We enable B2B companies to identify the anonymous businesses that visit their website and personalize their experience. Your sales team can now follow up with the visitors that don't convert, while marketing can personalize your website based on firmographic information to drive up conversion rate.
Start your 14-day free trial today!
Practice, Practice, Practice
Just like going into your first client demo, your team needs to practice. A few weeks before, hosts should write a general script for your booth, product, games and other activities you're including in your display. In addition, they can come up with a list of commonly asked questions so they can prepare answers. If you're playing a game or using technology, it's crucial that your team tests and practices the activity. There's nothing more embarrassing than your technology not working. And, there's a good chance you would miss out on a lead. You're investing a lot of money into your trade show, so your team needs to reflect this.
Reflect
Once the show is over, your hosts, sales team, management, and marketing teams should all come together to reflect on the trade show. Talk about how the show went, if the hosts had any memorable moments, what you would do again, what you would do differently, and more. This insight will help your team optimize future trade show marketing initiatives. And, you can use this information to better serve current marketing initiatives. As an example, if there was a question about your product that was asked multiple times, you can try to make the answer more clear on your website. Any form of marketing needs to be backed by data, and although trade shows may not have an abundance of trackable analytics, there's always room for improvement.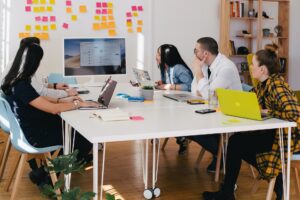 Follow Up With Leads
If done right, your hosts should leave with a list of names that are interested in your company. On the next business day, the leads should be followed up with. When you're reaching out, include specific information about the trade show, your booth, and questions they may have asked to jog their memory of your conversation. It's important to keep your email short and to the point while still including all of the key information. Include the discount code or other promotional information in the email to encourage them to convert. Also, have a call to action in the email so they know the next steps that they should take. Whether it be booking a demo, a sales call, or other initiatives. If you're not sure how to write the perfect trade show follow up email, this article can help.
Identify Your Website Visitors
After the trade show, you'll most likely see an increase in your website traffic. Prospects are interested in what your company has to offer. But, might not have had the chance to talk to your hosts. So, you can use a lead generation software, like Visitor Queue to identify the companies that visit your website. We provide company information like history, location, website, and more, along with their visit information like how they were acquired, pages viewed, and time spent on page. That's not all, we are also able to provide employee information including email addresses, phone numbers, and LinkedIn profiles. You can use all of this data to frame your pitch and reach out to prospects. You already know they're interested in your company by their activity. Speed up your sales cycle by reaching out to them. Start your 14-day free trial today and stop losing hot leads.
Final Words
If done right, trade show marketing is a great way to generate highly relevant leads. If you're not sure where to start, I would recommend attending a few trade shows with some members of your team and get a feel for how they work. Look at how similar companies have their booth set up, how their hosts are communicating with leads, and how they are generating leads. This will give your team a lot of insight on trade show marketing. And, help you see what you want to do and don't want to do when you have your own booth.